Technology Innovation Platform for the Ummah
Next event coming soon!
Interested in hosting at your center, contact us
---
A Hackathon is an event that starts at a schedule time and has a predefined duration. During this interval, participants solve interesting problems by writing code. At the end of the event, participants demo their creations to a panel of judges. Hackathons are a great way to get developers and other creative people together and working on building ideas into web and mobile applications. Imagine if this creative energy could be channeled to further your social mission. Many big companies like Google, Facebook and LinkedIn organize regular hackdays within their companies to give people an opportunity to come up with new ideas that help their users.
---
We are comprised of software engineers, ui/ux designers, product developers, project managers, thinkers and founder. The Muslim Hackathon (#muslimHackathon) series run and power hackathon events inshallah to present problems, form teams and solve the problems using each of our individual strengths in technology. A platform for Ummah to come forward discuss different issues from different organizations & institutes and try to solve in different hackathons. Technology innovication platform for the Ummah.
2019 Event Photos
Hackathon | Tech Talks | Coding Bootcamp
Recap Details - Find out who won!
---
2018 Event Photos
Recap Details - Find out who won!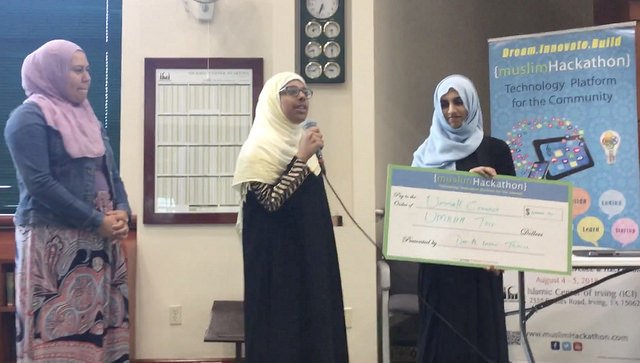 2017 Event Photos
6 Tech Talk Sessions | 3 Workshop
Recap Details - Find out who won!
2016 Event Photos
6 Tech Talk Sessions | 2 Workshop
2015 Event Photos
8 Tech Talk Sessions | 1 Workshop
2014 Event Photos
80+ Attendees | 9 Tech Talk Sessions
Recap Details - Find out who won!
2014 Event Photos
5 Tech Talk Sessions | 3 Workshop
Join our mailing list
Join Our Team: Volunteer for Muslim Hackathon Events
Muslim Hackathon wants you! Join our team to help UMMAH in technology innvoication platform. We wants people with various backgrounds, talents, and skill levels. Everyone has something special to offer...including you.
Volunteer! Its a great way to have fun, meet new people, learn and teach techonology to UMMAH. Join us and make a difference. Contact us or email: info @ muslimHackathon.com
---